Tempeh Balls with Tomato Sauce - rejigged
I apparently can't get enough of this
combo
, but this is a rejigged version that I thought deserved its own recipe...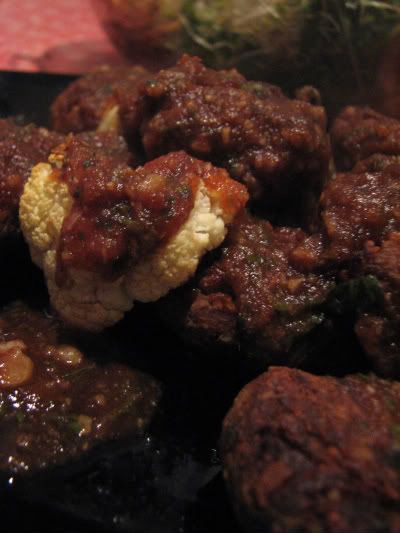 Spicy Italian Tempeh Balls
Ingredients
170g tempeh
1/2 tablespoon barley miso
1/2 tablespoon Braggs
1/4 teaspoon liquid smoke
1 teaspoon fresh oregano
1/4 teaspoon chilli powder
1/2 teaspoon ground fennel
1 tablespoon garlic powder
3/4 tablespoon olive oil
Method
Preheat the oven to 200 degrees Celcius.
Pour the olive oil into a baking tray.
Grate the tempeh into a large bowl, and add the rest of the ingredients. Mix well until the mixture sticks together when rolled into a ball. Roll into ten small balls.
Roll the balls in the olive oil to cover. Place evenly spaced on the baking tray, and bake for about 30 minutes, or until crisp and golden - turn once during the baking.
Tomato Sauce
Ingredients
100g tinned tomatoes
3 cloves garlic
1/2 tablespoon Braggs
2 tablespoons balsamic vinegar
1 cup water
1/4 cup fresh basil
Method
Mince the garlic, and place all ingredients bar the basil into a saucepan over a high heat. Cook for about 20 minutes, or until thick. Take off the heat, add the fresh basil, and process with a stick blender until smooth.
I roasted 70g cauliflower with the tempeh balls and serve it all topped with the tomato sauce. Mucho tasty...