Lebanese Feast of Feasty Goodness - Choisters
Choisters (as I said in my previous post) are the new name for the very very soft falafels I made recently for TheBoss and ThePenguin.
This was the first time that I had made falafels from scratch (ie not from a falafel mix), so I'd like to share with you my discoveries along the way!!
I really liked the very simple and robust flavour of these falafels, but I really should have heeded the advice of various recipe sites out there - if you want to have falafels that will survive the frying process, use dried chickpeas.
I used tinned chickpeas, and there was an unfortunate moment of watching my first ever made-from-scratch falafel literally melting away in the oil - the falafel started the size of the bottom of a glass, and ended up the size of a five cent piece. Really really disappointing.
Thankfully, TheBoss stepped up and saved the day, dry frying the now re-christened "Choisters", and providing the centrepiece to our meal. Thank you, Boss!!!
So, you can either go with the tinned chickpeas, and prepare for gentle dry frying, where you only turn the choister once, or go with the dried/soaked/drained chickpeas, and be able to shallow or deep fry the choisters without them melting away.
I'm not sure if baking the choisters would alleviate any of these issues, but that is of course the healthier option...
So. After that preamble, the recipe is fairly simple.
Choisters (Very Soft Falafels)
Ingredients
1 x 440g can chickpeas (if you want the true choister effect) OR 1 3/4 cup dried chickpeas, soaked overnight, and drained
roughly chopped onion/shallot/scallion - this depends on taste, I used about 1/3 cup
roughly chopped garlic - I used 3 or 4 cloves
1/4 cup chopped fresh parsley (or to taste - more parsley/more coriander/less of both)
1/4 cup chopped fresh coriander (or to taste - more parsley/more coriander/less of both)
3/4 to 1 teaspoon cumin
1 teaspoon seasoning salt (I use
Herbamare
)
1/2 teaspoon ground chilli
canola oil (olive oil is nice, but burns too easily and flavours what it fries too strongly)
Method
Another recipe requiring a good food processor. Put the chickpeas into the food processor, and grind until broken down. Add the onion, garlic, fresh herbs, spices and salt, and process (remember to stop and scrape down the sides occasionally!) until a rough paste is formed.
Put aside to cool for a while, and then form into patties (I like a slightly flattened ball effect).
If you have the soft choisters, heat a little canola oil in a frying pan over a medium heat, and then pour off the excess oil. You need to essentially dry fry these choisters. Place as many choisters as you can handle into the frying pan, and resist any temptation to move or touch them. They can only be flipped once!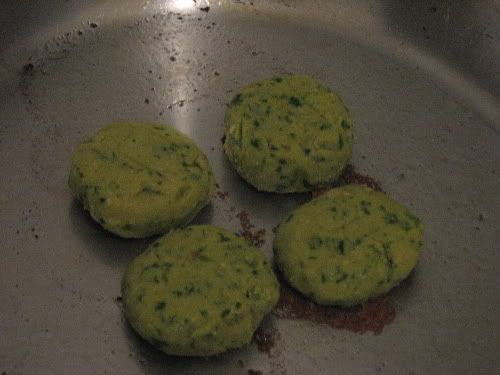 Once you have confirmed that they have browned on the bottom, carefully flip them all, and allow to brown on the other side. Remove from the frying pan and put onto paper towel to drain.
Repeat until all of your choisters are done.
If you've got the stronger falafel mixture, heat lots of canola oil in a deep heavy bottomed saucepan, over a medium high heat.
Drop a little of the mixture into the oil to check if it's ready - if the mixture immediately rises to the top, and starts cooking with air bubbles around it, you're good to go.
Carefully place the falafels into the hot oil (it's good to have either tongs or a metal slotted spoon to do this - it minimises the splashing of hot oil around), and cook until brown and crispy. Remove from the oil and place on paper towels to drain.
Repeat for all of your falafels.
You can also shallow fry the falafels, using a frying pan and less oil.