From the cupboard to your plate - number 2
So this is another hearty pasta sauce, made for eating during unhappy moments or cold rainy nights (or, if you're life isn't doing well, both, because they're happening at the same time!)
I learnt this recipe from an old, old friend of mine - she also taught me the joys of Nutmeat burgers! Of course, being me, I have to fancy the whole thing up, just to make life difficult for everyone. But it's still a quick, tasty, filling, protein-heavy and fairly healthy meal. The eggplant is not a necessary part of this recipe - I just love the smoky flavour that it imparts to the sauce. The sauce is equally lovely without the eggplant!
You'll probably notice that I have a standard pasta sauce base. And you'd be right. Tomato based pasta sauces are never really going to be that different - it's just what additions you have!!
Lentil Pasta Sauce (now with roast eggplant!)
Ingredients
1 x 415g can of
Sanitarium Savoury Lentils
1 x 400g can of crushed tomatoes with herbs (I tend to get the basil flavoured tomatoes for this recipe)
minced garlic, to taste
1 tablespoon tomato paste
can of roasted marinated eggplant (or fresh roasted marinated eggplant, though that wouldn't smoosh as much - it needs to be very very soft)
hot sauce (or ground pepper) to taste
(there's olive oil in the photo, but I didn't end up using it - there was so much oil in the eggplant that I simply left it at that)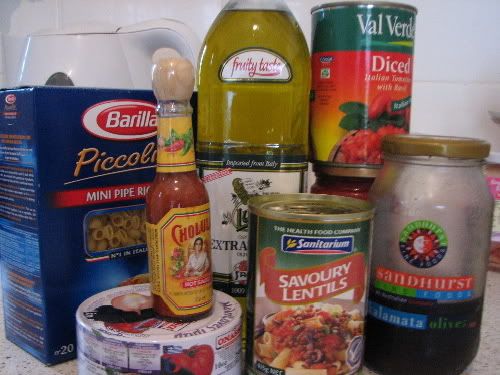 Method
Heat a frying pan over a medium heat. Put the soft, oily, marinated eggplant into the frying pan, and saute - and smoosh into a fairly paste like consistency. The eggplant is going to add a great smoky flavour to the pasta sauce, but with no chunks (if, however, you want chunks of eggplant, not so much with the smooshing at this stage).
Add the garlic, and saute in the eggplant smoosh. Add the tomato paste, and mix into the eggplant thoroughly. Pour in the lentils and tomatoes, and and about half a tin of water, and stir through thoroughly. Splash in the hot sauce (or grind in the pepper) at this point. Turn the heat down to low, and leave to cook, stirring occasionally, until the sauce reaches Vesuvius bubbling, and the liquid has cooked off.
Put a pot of salted water on to boil, and cook pasta according to instructions. I love to use the "mini" shapes from San Remo - it adds to that whole childhood/comfort food feel of the meal for me. Any pasta is fine, though spaghetti or fettucine may not grip the sauce as well as shapes do.
When the pasta is cooked, drain well. Stir the pasta through the pasta sauce, coating the pasta thoroughly. Turn off the heat, and fill your plate with fabulously tasty pasta.
Share (if you're lucky enough to have someone around to share with! And even if you're not - share with yourself!) and enjoy!