It's not Risotto, it's Quinoa-otto (??)
I'm limited in my rice intake, and one of the types of rice which I am not even allowed to look at sideways (curses!!) is
Arborio
(or risotto) rice.
Which sucks, because I was well on my way to becoming a
risotto
queen (if I do say so myself).
I am experimenting with different grains to replicate that wonderful risotto experience, and most recently tried quinoa. The flavour was great, the quinoa cooked well in a risotto style, and I really enjoyed the end result. The only thing that really distinguished it from risotto (apart from, you know, not containing any rice) was that the creaminess of a really good risotto was not there – it was actually quite dry (comparatively).
I may sneak in some of my other risotto recipes in the future (roast garlic and pumpkin, tomato and mushroom, risotto balls…), but in the following recipe, substitute Arborio rice for the quinoa if you are lucky enough to be allowed to eat rice!!
This recipe was originally conceived by Varinth, so many props to him. It's one of my favourite ways to have risotto now!
Balsamic Eggplant and Olive Quinoa-otto
Ingredients
1 ½ cups quinoa/Arborio rice (if you are using quinoa, remember to rinse it really well before cooking it)
2 medium eggplants, cubed
2 litres vegetable stock
2 cloves garlic, minced
½ cup kalamata olives, sliced
Balsamic vinegar – about 1/3 cup
Olive oil
Rocket
Additional olives
Method
Put the stock onto a low heat, and keep simmering.
Heat olive oil in a frying pan over a medium heat, and fry the eggplant until browned and soft.
Drain on paper towel, and divide into thirds.
Put two thirds into a bowl and pour the balsamic vinegar over to marinade.
Leave the eggplant for about 20 minutes, stirring occasionally, until all the vinegar has been soaked up by the eggplant.
Put the other third to the side.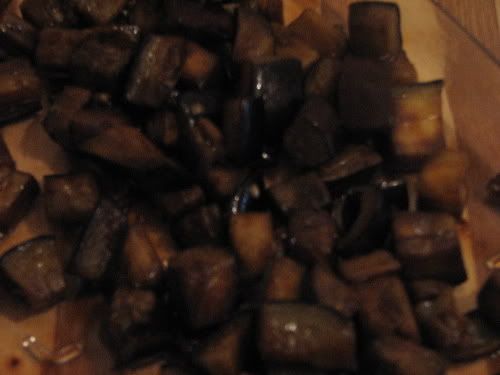 Heat olive oil in a deep bottomed pan, and add the garlic.
Stir quickly until fragrant, and then add the quinoa/Arborio rice.
Combine quickly, and cook until the quinoa seems dry.
Add two to three ladles worth of stock, and cook, stirring, until it has been absorbed.
Add another two ladles worth of stock, and repeat.
Add the non-marinated third of the eggplant to the saucepan, and mix through.
Continue adding ladles worth of stock and stirring until it has been absorbed. Add most of the marinated eggplant to the saucepan, leaving behind a little for presentation later.
Continue adding ladles worth of stock and stirring until it has been absorbed. When the quinoa/Arborio rice is almost cooked, add the olives. Continue with stock/stirring until the quinoa/Arborio rice is completely cooked.
Cover, take off the heat and set to one side.
In a bowl, combine torn rocket leaves, the remaining eggplant and some olives, with a little splash of balsamic vinegar.
Serve the quinoa-otto topped with the rocket leaves mix.