Na-Na-Na-Na-Na-Na-Na-Na-Protein Patties!! [/original Batman theme]
I came up with these one day when I had tofu marinating in the fridge, and couldn't decide what to do with it, and really wanted a burger or something equivalent to have with a nice sauce and salad.
I'm always aware that I need to up my protein intake as part of my low GI diet, so it's always good to find something else to add to my list of protein-y things that are easy to make!!
I was well chuffed, because one of my main problems with making vegan patties is getting them the right consistency and getting the damn things to stick without eggs! I persist, because it's one my holy cooking grails – I want something that's not going to fall apart when I cook it, and isn't going to taste too dry.
These are not as highly flavoured as some of my meals, but the salsa with them takes care of the uber flavour kick!!
Protein Patties
Ingredients
1 can cannelini (or any type) beans
1 and a ½ cups raw cashews (or raw almonds)
About 150g extra firm tofu
Garlic powder to taste
Onion powder to taste
2 TS sauce – plum, soy, vegan oyster
Any dry flavourings you want (to taste) – make it a little more Meditteranean with cumin/coriander, make it a little Italian with oregano/thyme, make it more Asian with chilli/lemongrass…
½ - ¾ cup rolled oats or barley
Oil for frying
Method
Put the cashews into a food processor, and process until broken up. Add the tofu, and process until well combined. Add the beans, garlic and onion powders and any other dry flavourings, and process until smooth. Pour in enough of the sauce to make the mix moist but not sticky. Add the oats/barley and process until the oats/barley is well distributed throughout the mix. Add a little more sauce if the mixture is too dry.
The mix should be moist but not sticky. Form into patties and leave in the fridge to firm up for at least an hour.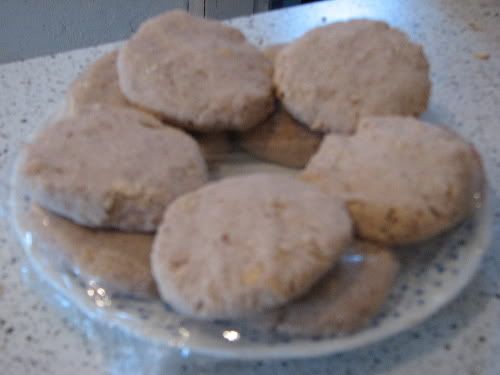 To cook, heat a little oil in a frying pan over a medium heat.
Place the patties in the frying pan, and cook until browned on both sides.
You should be able to move them around and flip them a couple of times, but don't get too enthusiastic about it!
Serve with spicy salsa and greens,

or, make the patties into meatball size,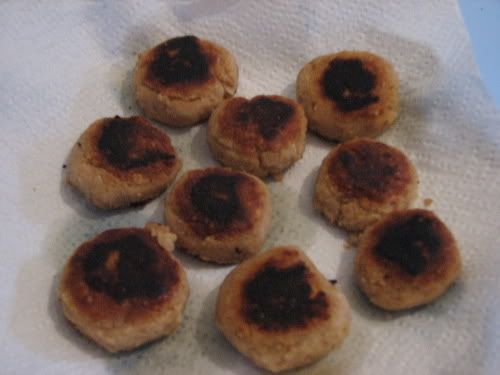 and serve with pasta and thick tomato sauce as vegan pasta and meatballs.